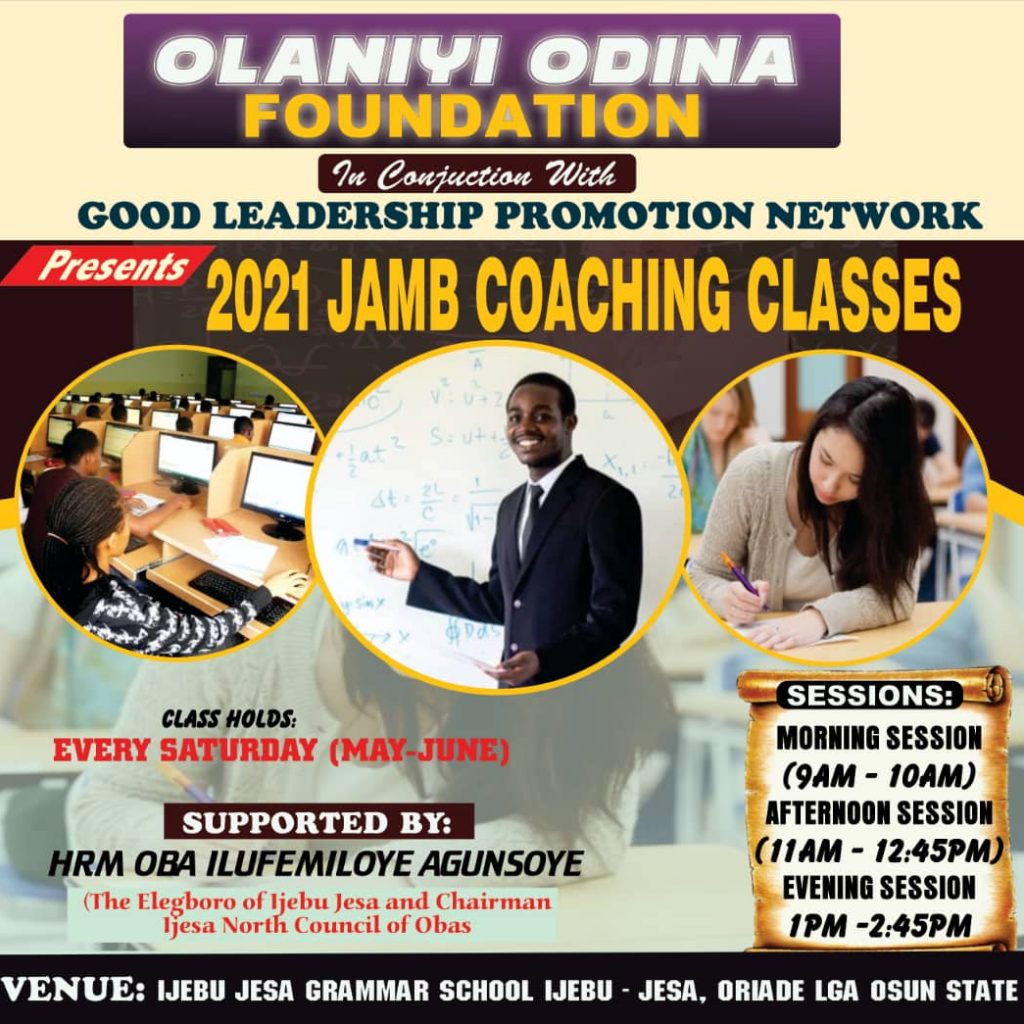 TOGETHER WE CAN MAKE A BETTER FUTURE
Ladies and Gentlemen,
We welcome us all to the flag-off of the first edition of the Olaniyi Odina JAMB Coaching and Mentorship Programme. Olaniyi Odina Foundation and Good Leadership Promotion Network organized the program with the support of HRM Oba (Engr.) Moses Ilufemiloye Agunsoye.
Our vision, therefore, is not only to coach these students on how to sit and pass JAMB but also a mentorship program that will span over the years.
We shall serve as a guide and guard to these students, especially in career choices, personal development, and advancements.
We plan to help those that will do very well in the exam facilitate admission into Universities and polytechnics where we have the ears of those in leadership and also mentor them into a prosperous future.
For those who may not further their education, we intend to play a 'big brother' role as they choose the trade/vocation they are interested in and possibly provide support for them in different ways.
God willing, this is expected to be a remarkable journey for us all. We are prepared and determined to contribute our quota to developing and building the next generation of leaders as we train and mentor the future generation to get set to take over political, military, administrative, and corporate leadership in all facets of our national lives.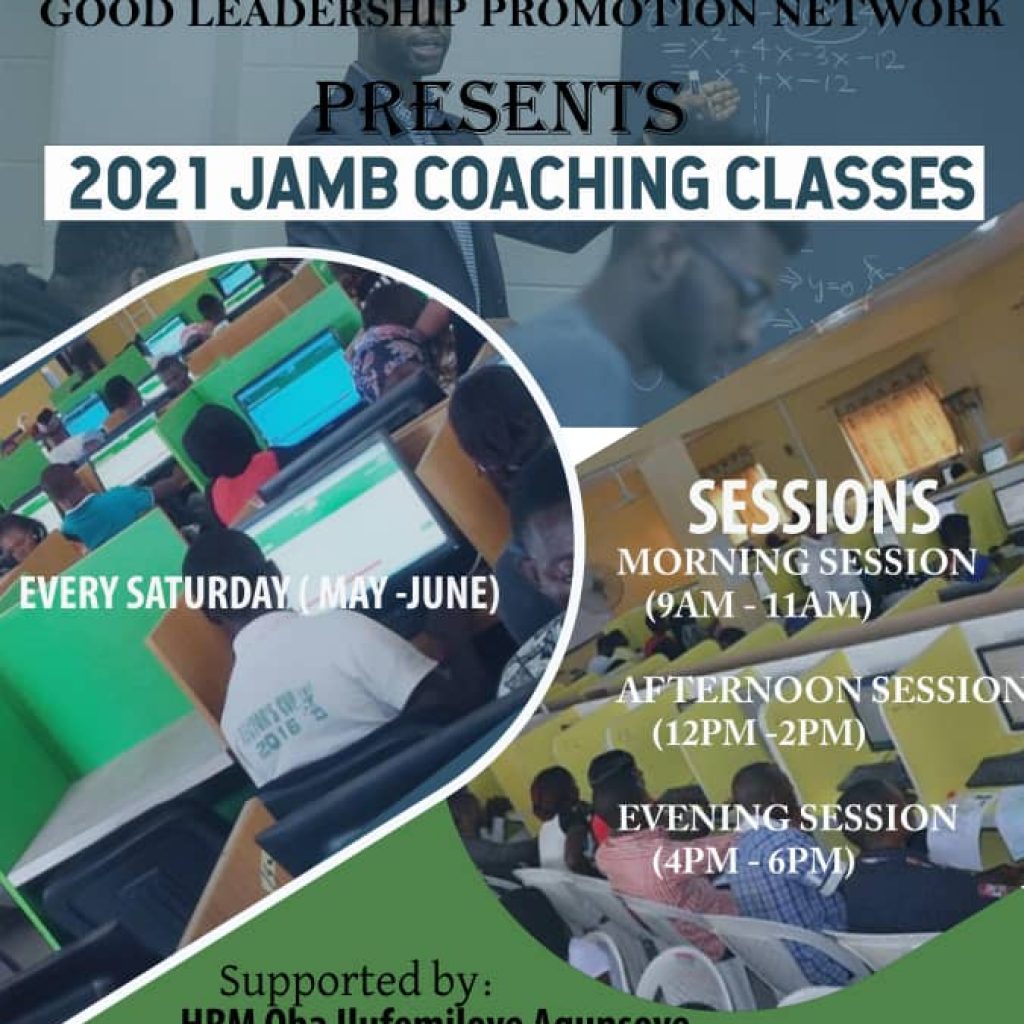 We have designed the lessons to run for eight weekends starting from today, May 1, 2021. We shall also be having virtual classes on different platforms with proposed dates and times to be discussed and agreed upon by our students and teachers.
We understand that our teachers/mentors will be making commitments and sacrifices. We have made provisions for a stipend to be paid to our teachers after every session. This stipend does not equal pay for their sacrifices because nobody can pay for that; hence it is just a token of our appreciation.
Importantly, we have sent letters to secondary schools in Ijebu-jesa requesting that they send us a list of 10 Nominees each. While considering our capacity, for now, we are limiting the scope to 50 students, and we are hopeful that we shall scale up the number in subsequent editions.
This move is what it is, a humanitarian gesture, which the leadership of Olaniyi Odina Foundation and Good Leadership Promotion Network has been known for in the last 15 years. We had similar programs in Ebonyi State, which earned us recognition from the Ebonyi State Government and several other interventions in Edo, Ekiti, Ondo, Abuja, and our beloved Osun States in this direction.
We are opened to partnerships with good-spirited individuals, corporate agencies, local and international agencies, and government at all levels.
Our Management and Board appreciate the efforts of our friends, leaders, and mentors that always believe in our dreams and can-do spirit. We appreciate the efforts of HRM Oba Moses Ilufemiloye Agunsoye and Prof. F.O. Osadolor for standing by the noble ideals we represent at all times.
Once again, gentlemen and ladies, we appreciate you all.
Thank you.
Olaniyi Odina
08188475958
Chairman, Olaniyi Odina Foundation
National Coordinator, Good Leadership Promotion Network
Group Managing Director, Green Lunar Group.
1/May/2021